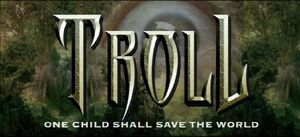 One Child Shall Save The World. -Tagline
Troll was the title of an intended 2012 remake of the original Troll film. The story would have been the same, and would have maintained the main character of Harry Potter Jr, as well as Torok the Troll.
As of 2015, the movie appears to have been cancelled, as the official website is now gone. However, a different kind of followup to the original Troll movie has been announced: Troll: The Rise of Harry Potter, Jr.
External Links
Edit
The Troll Franchise V · E